Beginning Music Theory Guide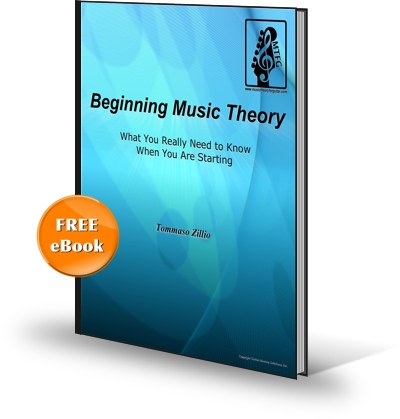 You are just one step away from downloading your free 'Beginning Music Theory' guide. This guide will help you to get a great start in your learning. All the concepts explained do not require that you have any previous knowledge (hey, it's a beginner guide!) and yet they are ALL immediately useful for you right now. We will not waste your time with things you are not going to use!
The guide contains a complete section on how to insert the concepts you have just learned into your practice routine. The section contains helpful tips on memorization and a training program that you can personalize to make your learning process faster and easier. You will be amazed how these simple suggestions will allow you to move from absolute beginner in music theory to confident player in a little time.
Finally, included in the beginner music theory guide is an appendix containing tables of all the notes in every chord and scale, and all the chords in every major or minor scale. These tables are a great timesaver for a beginner!
By submitting your info, you agree to send it to Guitar Mastery Solutions, Inc. who will process and use it according to their
privacy policy.