Music Notations Free eBook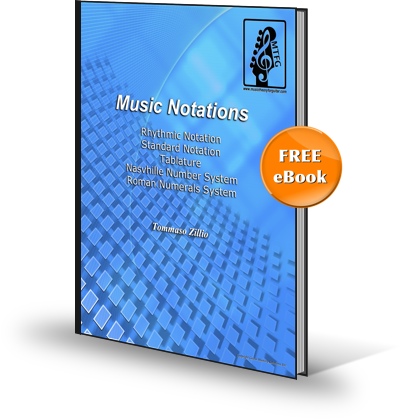 You can download here the FREE eBook that explains in detail how to read music.
With the help of this eBook you will learn:
Standard Notation: explained separately as Rhythmic Notation and Pitch Notation so that you can learn either the whole notation or just the Rhythmic Notation.
Tablature: the most used (and unjustly underrated) system for guitar music.
The Nashville Number System and the Roman Numeral System: two notations used to write chord progressions in a key-independent way.
This eBook also includes a series of printable blank scores for Standard Notation, Tablature (both together and separately with Standard Notation), and Fretboard Grids. Never be without a way to write down your musical ideas anymore!!
You can download your FREE eBook on music notations by filling the following form. You will receive your eBook in your inbox in few minutes
Your email is kept 100% private and confidential. Your email will NOT be shared, rented, or sold. There's no obligation to buy anything. We hate spam as much as you do, that's why your email will be secure!