STUCK Writing A Guitar SOLO? Try This Idea To Finish It!
FREE Music Theory Map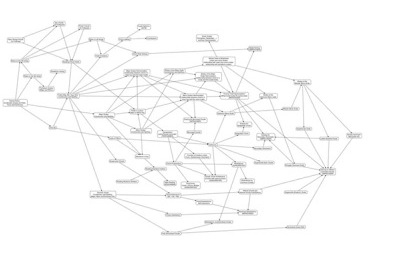 Download the FREE Map of Music Theory that will tell you what is the next topic you need to study
By submitting your info, you agree to send it to Guitar Mastery Solutions, Inc. who will process and use it according to their
privacy policy.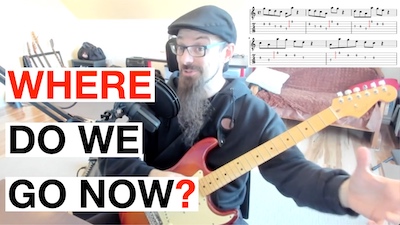 The act of creating music is something really personal and individual… and yet there is one universal experience that all composers / songwriters seem to experience.
It's the feeling you get when you got a good idea (a melody, a lick, a chord progression…) and you ask yourself:
"Where do we go from here?"
(Reportedly, this is what Axl Rose was thinking when he started ad-libbing "where do we go now?" in "Sweet Child O'Mine": he was just wondering how to continue the song. It worked!)
Depending on who you ask, there are many solutions here: from "do something else" (like "brew today's 13th cup of coffee") or "ask somebody else"
All of the above may work… but notice how it's a cop out? They are just avoiding the problem hoping that inspiration strikes again.
I'd rather take a more proactive - and technical - approach to it. That is: knowing some CONSTRUCTIVE music theory (see last video on this page).
So today I show you one of my favorite ways to juggle these notes around and come up with the next part of your melody or guitar solo.
(Incidentally, they tell me that this was a favorite technique of B.B. King. I could not verify it, but I believe it)
Ready? Here we go (Trigger warnings: short scale bass, biceps, rotating guitar licks. Oh dear!)
If you like this "style" of tricks and you see the potential and versatility to create original guitar licks…
… then have a look at another trick in the same 'family'
(Or you can COMBINE the trick in the video below with the one in the video above, for maximum lick domination)
And if you are wondering what is "constructive" music theory, here's the whole story:
Do you know ALL your scales and modes in all position and can play them without thinking? If the answer is not an immediate YES, then check out the Master of the Modes guitar course
Did you find this video helpful? Do not miss the next Music Theory videos!
Subscribe to the MusicTheoryForGuitar YouTube channel by clicking the button below.