This PIANO Trick Works Great On GUITAR Licks
FREE Music Theory Map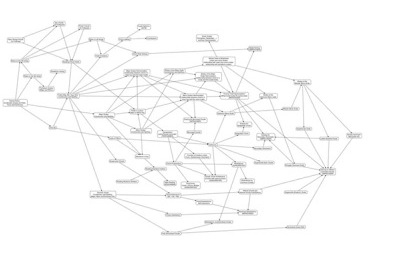 Download the FREE Map of Music Theory that will tell you what is the next topic you need to study
By submitting your info, you agree to send it to Guitar Mastery Solutions, Inc. who will process and use it according to their
privacy policy.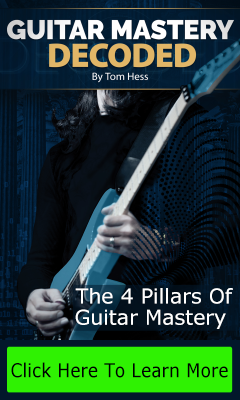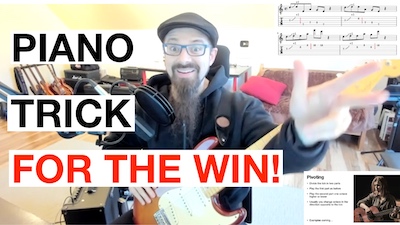 Today I want to show you a trick I learned from a local Jazz pianist.
I love talking with people who play other instruments, as very often the things they play naturally on their instrument are not so obvious on guitar.
This specific trick - according to my friend - is something that pianists have been doing for ages. Now that he showed it to me, I can see it in the playing of several greats of the keyboard.
Sadly, I've never seen a guitar player doing this.
Which is a pity, because this trick sounds great. All lead guitar players should have this trick in their trick bag.
"Ok, but what does this trick do?", you would ask.
It's… surprisingly hard to explain in words!
I could say: "this trick takes a fragment of a melody and transforms both the contour and the register of the lick while retaining both the notes and the note order" …
… and that would be perfectly true, but is that any clearer?
Fine. Basically this trick "takes a lick and makes it better". Happy? :-)
So… I' asking you to trust me for a moment, go and watch this video, try the trick on your guitar.
I bet that in few minutes of you actually trying this idea, you will start writing something new (*)
(*) No guarantees if you "just watch" the video. Kinda like any sports or going to the gym, the way to become good at guitar is to play. Not watch other people play ;-)
Do you know ALL your scales and modes in all position and can play them without thinking? If the answer is not an immediate YES, then check out the Master of the Modes guitar course
Did you find this video helpful? Do not miss the next Music Theory videos!
Subscribe to the MusicTheoryForGuitar YouTube channel by clicking the button below.