INTERVALS Or NOTES? How To Learn Your Guitar Fretboard
FREE Music Theory Map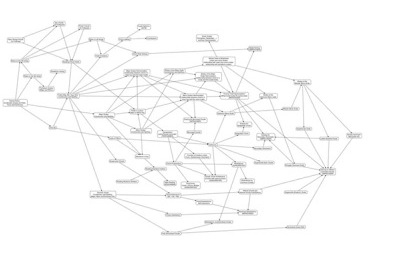 Download the FREE Map of Music Theory that will tell you what is the next topic you need to study
By submitting your info, you agree to send it to Guitar Mastery Solutions, Inc. who will process and use it according to their
privacy policy.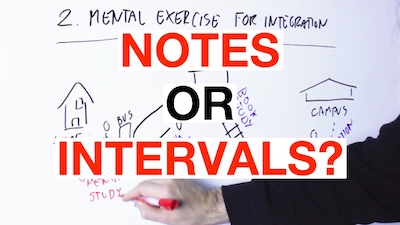 After one of my recent videos, several of you asked me the same question:
"Should I learn my fretboard by memorising all notes? Or should I learn my fretboard using 'intervals' like many teachers on YouTube say I should?"
Well, good for you to notice that! Yes, the last fashion in internet guitar teaching is to explain the fretboard by intervals, not by notes.
That's curious to me. Think about it:
If you tell people that you are playing by 'intervals' they tell you it's the smart thing to do.
If you tell the very same people that you are playing by 'pattern', then they all get concerned and they tell you that you are limiting yourself.
And yet, playing by 'intervals' or playing by 'patterns' is very same thing!
(unless the person who taught you the patterns is a troglodyte…)
Now, some of you got the idea that I don't like patterns/intervals and I recommend to learn the notes and nothing more. That's not true.
Patterns are great! But if you think about it for just a moment, you will see that there is no way to use the patterns without knowing the notes.
Suppose I teach you a scale pattern… the first question is: "where do I play it?" —> you need to know the notes to answer that!
This is just guitar common sense.
What is not common sense - and yet very very important - is:
How do you make these two skills (notes and patterns) work together harmoniously?
That is, how do you 'integrate' them, so that they work like a well-oiled machine?
Well, pardon me the cliche'… but in the best tradition of internet marketing:
You integrate them with "this weird exercise" :-) (Guitar teachers hate him for revealing it!)
For once, this exercise really is weird.
Every time I start a new student on it, they can't stop asking: "are you sure this is the exercise? Does it actually work?"
And after some time they come back to me and say: "Oh wow, it actually works. I could not believe something like that actually works. It's weird!"
So… watch the video here:
If you need to brush up with your note knowledge, here's a video with a no-nonsense method.
Just 5 minutes a day (seriously) for a few weeks, and you will learn your notes permanently:
I like to think of the videos above as "trailers" for my full courses. See, the videos above contain some nice tips and good exercises…
… but there is no way I can train you properly only through YouTube videos. If you want to wield the full power of harmony on guitar, then I recommend the Complete Chord Mastery guitar course
Stop searching for little insights here and there, and go straight to the core of harmony and the many applications you can play on your guitar. If you are ready to get serious - and have more fun with your guitar - then start Complete Chord Mastery
Did you find this video helpful? Do not miss the next Music Theory videos!
Subscribe to the MusicTheoryForGuitar YouTube channel by clicking the button below.