This Is Why MODES Are So Confusing To Guitar Players [Music Theory]
FREE Music Theory Map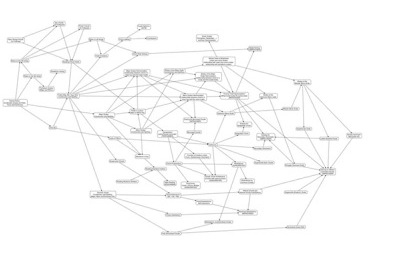 Download the FREE Map of Music Theory that will tell you what is the next topic you need to study
By submitting your info, you agree to send it to Guitar Mastery Solutions, Inc. who will process and use it according to their
privacy policy.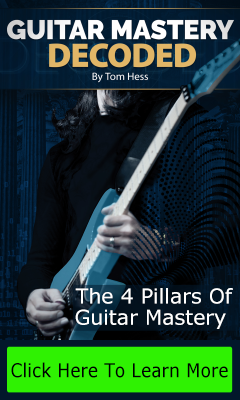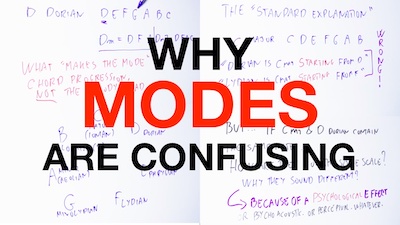 In 3 seconds: shat is the most confusing topic in music theory for guitar players?
three… two… one…
… DING!
Time's up.
And the answer is: Modes.
Modes are T.H.E. thing that confuses guitar players the most.
I mean, chromatic harmony may be complex, and fretboard visualisation does not come together in five minutes either…
…but in sheer number of 'wrong ideas that everybody repeats', modes definitely takes the first prize.
Have you ever heard things like: "the Dorian mode is just the major scale starting from the second note"?
It's wrong.
How about: "To play Mixolydian, just play the major scale 5 frets above"?
Misleading at best.
And what about the super common: "Lydian is a mode and not a scale"?
I'd like to say that this last one is wrong… but the reality is that this statement has no sense at all. To quote famous scientist Wolfgang Pauli: "It's not even wrong"!
Now, if I was a good internet marketer, I would simply tell you to get my course Master of the Modes, where you will find all the answers.
And while this is true (the answers are there), I know that there are be many of you that won't get that course. (You don't have the time, or the money, or you don't trust online courses, or you already know everything, etc etc - no problem)
And in the meantime people keep repeating stuff like the things I quoted above…
Alas, I have to go against my better judgment of selling more courses here… So here's what we are going to do.
Here's a video that will dissolve these confusions about modes and show you how modes actually work.
It's free. It's short. It's clear.
(or at least… I hope it's clear!)
You watch it, you see how modes are actually supposed to work, you understand why the quotes above are wrong.
And so maybe in time we will all do our little part in making modes clearer and easier for all musicians.
You don't have to take my course to watch this video:
P.S. That said, the course contains much, much more than what is in the video. And if you are interested in the Master of the Modes course and want to know more, then check it out here: Master of the Modes guitar course
Hey, I may be a bad marketer, but if I don't put in at least a link they will revoke my marketer membership card ;-)
Did you find this video helpful? Do not miss the next Music Theory videos!
Subscribe to the MusicTheoryForGuitar YouTube channel by clicking the button below.