The Most Cliche' MODULATION (Know This... Or Be Left Behind)
FREE Music Theory Map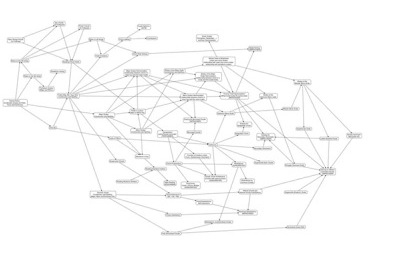 Download the FREE Map of Music Theory that will tell you what is the next topic you need to study
By submitting your info, you agree to send it to Guitar Mastery Solutions, Inc. who will process and use it according to their
privacy policy.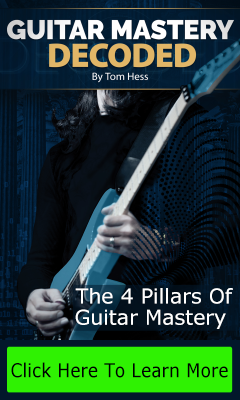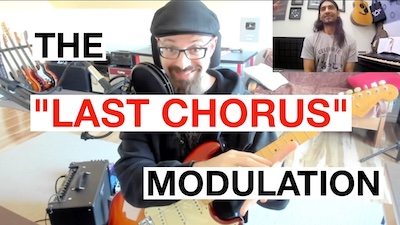 If you want to write your songs, what I am about to show you is absolute must-know information.
Try this experiment:
Turn on the radio - or any of those online services that stream music and underpay artists.
(Artists that could totally leave said streaming services en masse anytime… but let's not get into that now)
Find a pop song and listen to the last chorus.
Yes, this may require you to listen to a whole 3 minutes pop song, which I understand is a lot to ask given how long attentions spans are lately…
… but I know that you. You are a committed musician and can submit to this sacrifice for the ultimate and supreme goal of perfecting your craft.
(Geez… the things I have to say to convince people to listen to pop…)
Anyway… note how the last chorus of most pop songs is in a different key than the rest of the song.
This is so common that is now a cliche'… but why it is done?
Can't we write a pop song that does NOT do that?
Turns out that there is a very good reason for doing it - and if you don't do it, then you totally have to compensate in another way.
I show you all the whys and hows here:
When writing songs - especially if you want to change key in them - it pays to have a working knowledge of harmony at your fingertips. and mind: this is exactly where most wannabe songwriters fall short!
You don't want to learn 'academic' harmony: you want to learn real-life street-fighting harmony directly on the guitar fretboard. And here's your ticket for that: the Complete Chord Mastery guitar course
Did you find this video helpful? Do not miss the next Music Theory videos!
Subscribe to the MusicTheoryForGuitar YouTube channel by clicking the button below.