Why Musical INTERVALS Are Confusing [Worst-Named Music Theory Concept]
FREE Music Theory Map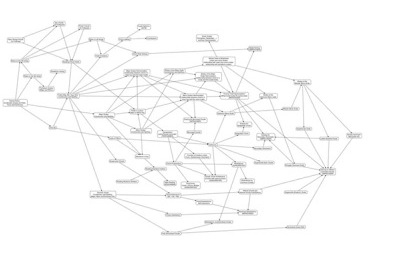 Download the FREE Map of Music Theory that will tell you what is the next topic you need to study
By submitting your info, you agree to send it to Guitar Mastery Solutions, Inc. who will process and use it according to their
privacy policy.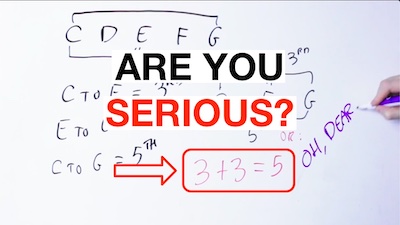 Property damage is the last thing you would expect to happen when you are learning music theory, right?
Unless you are around me.
I've become famous for my - erm - "animated" ways of learning music theory.
Especially when I was younger whenever I got frustrated I was prone to occasional fits of book-throwing rage. It was the book's fault, I swear!
… ok, maybe chalk this up to my (then) young age and obvious immaturity?
Oh who am I kidding. I still do it, and I'm not "younger" anymore.
And yes, I've been known to hit various objects with my voluminous projectiles…
… at least two reading lamps , one vase, one computer monitor…
(one of the lamps can still be seen in some of my older YouTube videos. Pre-accident of course)
… and in at least one occasion I left a dent in the wall.
Ok, the wall was not really built to withstand a high-speed "Harmonielehre" attack, and the book had quite a heft to it… but still, I's say I have quite a good throwing arm.
"Be passionate about what you do" they say. They never warn you about how you are going to justify it to your wife…
So, you see, I do understand when people write me and say they are frustrated about music theory. Been there, done that, got the t-shirt, sold the t-shirt to raise the money to repair the wall…
One of the things that I found - and still find - the most maddening is the names we use for musical intervals.
You know… major 3rd, perfect 5th, and all that nonsense.
If I knew 20 years ago what I explain in this video, it would have saved me tons of frustration.
It will probably be the same for you after you watch it:
If you have any doubts about intervals, here you will find an easy-peasy introductory video on them:
And here's a few tricks to play these intervals on guitar and create interesting music:
If you want to learn music theory in a logical and systematic way… and also be able to use it to make great music on your guitar…
… then check out the Complete Chord Mastery guitar course. Don't wait!
Did you find this video helpful? Do not miss the next Music Theory videos!
Subscribe to the MusicTheoryForGuitar YouTube channel by clicking the button below.