Chord Tone Soloing FREE Course
You are just a moment away from getting your FREE course Chord Tone Soloing: How To Always Play The Right Note At The Right Time. If you want to get to the course right now then scroll to the bottom of the page and follow the instruction... or just keep reading:
What Is Chord Tone Soloing?
Chord Tone Soloing is a technique to play the "right" notes over whenever you are playing a guitar solo over a backing track or jamming with your friends. It can be applied at all levels, from beginner to advanced
If you are a beginner, Chord Tone Soloing will help you choose a few great-sounding notes that will work on YOUR song, so you can play a simple solo that will sound GREAT
If you are already advanced, it will help you making your improvisation more musical and it will also help in making sense of how the solos you love are 'built' (and how you can do the same yourself)
For every guitar player: you will also learn how to connect brain, ears, and 'feelings' together so that your leads will sound the way YOU want
Literally EVERY famous guitar player that you know of uses Chord Tone Soloing in virtually every solo they play. It's really the center and focus of theory applied to guitar - and it's easy to learn and apply (if you train it correctly)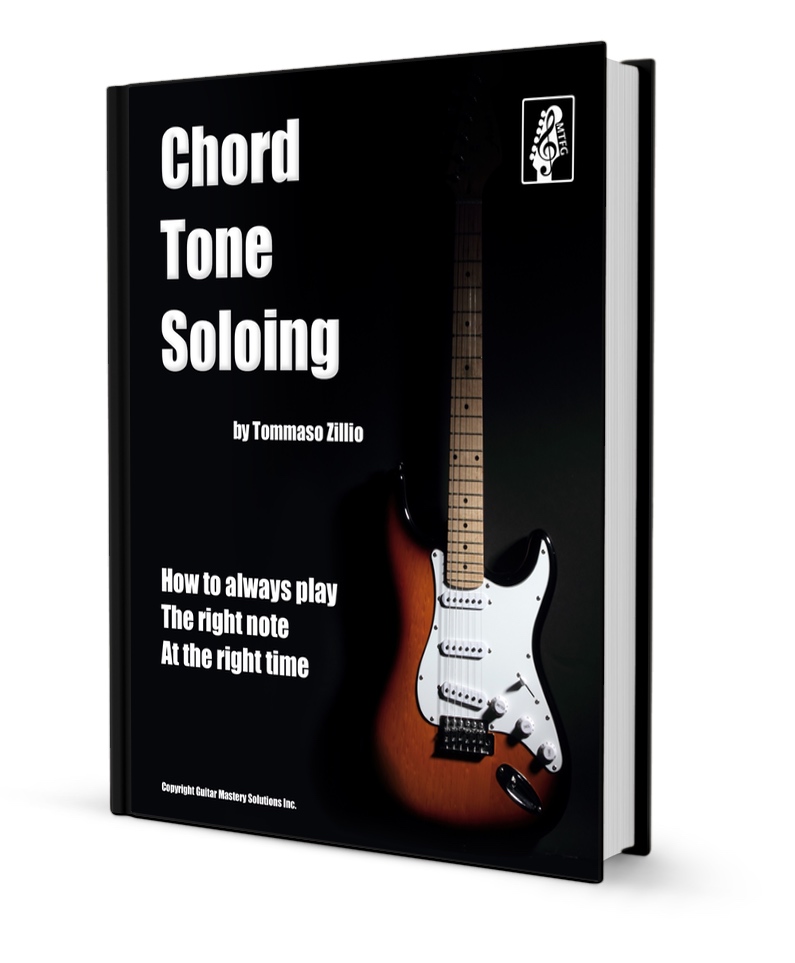 You can learn Chord Tone Soloing easily by using the FREE Chord Tone Soloing Course
What You Will Learn In This Free Course
Here are a few of the things that we will work on together:
How to break down Chord Tone Soloing in simple, trainable, and easily manageable steps
How to train to make Chord Tone Soloing second nature, so you can spend your brain power to make music rather than doing "chord mathematics"
The simple way to solo over a mostly "in-key" chord progression that has ONE chord out of key (many famous songs do this)
Using chord notes inside scales vs using chord notes inside arpeggios: why the sound is different and how you can use these two approaches in different situations
An easy way to improvise a solo over a progression where the chords are out of key with each other
How to use what you learned to play over backing tracks (included!)
... and more.
What Will You Get With Each Session
The course is delivered in multiple sessions. Each session contains:
A video of the session, that explains what you need to know and how to train it (when we talk about guitar, knowledge without training is useless)
A PDF file transcription of the course, that includes diagrams and tablature of the examples made in the video, so you can read word-by-word and understand the concepts at your own pace
The MP3 audio of the video session, that you can put it in your iPod/iPhone so you can review the lesson away from the computer (while you are at the gym, while you are driving your car, etc)
2 Training backing tracks, so you can start immediately to practice everything you learned
You will receive ALL sessions immediately, so you can go through them as fast or slow as you want. You will also be able to review past sessions at will
The course is completely free, no string attached
Frequently Asked Questions:
Is this course really free?
Why you are offering this course for free?

Because many guitar players are frustrated with the problem of not being able to find the "right" notes, and I know how to help them. And, if I can be completely honest, I also hope that you like this free course so much and have so much fun in learning new things on your guitar that you consider taking one of my other music theory guitar courses too... but if you decide not to take them and are content with just the free Chord Tone Soloing, that is fine too - just send me an email if you like it ;-)
How Do I Get My FREE Chord Tone Soloing Course?
Follow these simple instructions to receive your FREE Chord Tone Soloing course, and you will be able to see the first session in literally ONE minute:
Login or Create a new account clicking on the buttons below (creating an account is free):

If you already have a Music Theory For Guitar account, click on the "Log In" button below and insert your email and password
If you do not have an account yet, click on the "Register" button below and insert your email + a password of your choice. Nothing else is required

Once you log in, this page will reload and you will see a "Get Access" button. Click it
You will be redirected to your account, where you will be able to access the Chord Tone Soloing course. ENJOY!
Your email is kept 100% private and confidential. Your email will NOT be shared, rented, or sold. There's no obligation to buy anything. We hate spam as much as you do, that's why your email will be secure!
P.S. Do not miss this occasion to finally understand how to make every note count in your solos. Do not keep playing the same things over and over hoping that one day you'll "get it"... instead take action now, get your free Chord Tone Soloing Course and learn once and for all how you can sound better.