Make MUSIC With The Dorian Mode!
Today I want to share with you one of the greatest scales used in modern music: the DORIAN scale.
Dorian is one of the favorite scales of Carlos Santana, David Gilmour (Pink Floyd), Eric Johnson, Joe Bonamassa, Joe Satriani. And you can hear Dorian licks in Stevie Ray Vaughn, Jimmy Page, John Mayer, Robben Ford, George Benson, BB King...
...but I will not show you "just the scale."
I will show you all the tricks to make Dorian sound GREAT.
It's these tricks that make all the difference! That's why just "studying scales" (i.e. playing scales up and down, hoping to achieve some revelation by doing the same thing over and over) does not work!
And yes, you may know something about the Dorian scale already (but you struggle in making it sound good)... or maybe you don't know about the Dorian scale at all... in which case you will be surprised at how easy it is to get *that* sound you have in mind.
"But" you will say "How can I learn to play in the Dorian scale, going beyond just the scale patterns to make ACTUAL music? Aren't Modes supposed to be hard?"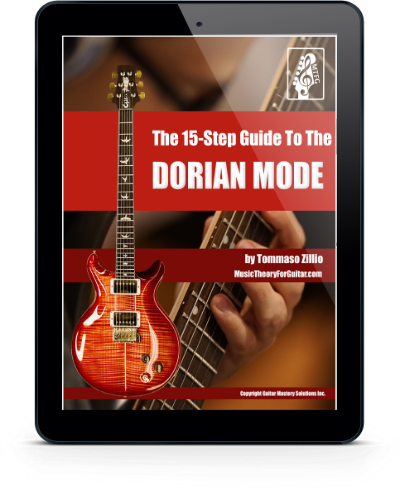 Glad you asked! Let me show you something that will make learning Dorian super-easy and fun:
The 15-Step Guide To The Dorian Mode
In this eBook you will find:
Some notes of the Dorian scale sound like nails on a blackboard? Learn the simple secret on how to make the "wrong" notes sound "right" (Page 14)
Getting lost on the fretboard? Learn 4 different ways to see the Dorian mode on your fretboard... and pick the one that works best for you - or use all of them for maximum versatility! (Pages 12, 19, 23, and 27)
The chord progression that makes the Dorian mode sound shine. Yes, you can steal all of them for your songs. (Page 38)
How to give a sense of "forward motion" to your improvisation in Dorian so that it 'means something' musically rather than being a stream of random notes (Page 16)
The incredibly simple way to play a basic pentatonic scale (you know that one already...) and make it sound Dorian, without adding more notes or altering it in any way. This trick is the favorite of many modern guitar players, but it's so simple that even a beginner can pull it off in one minute. (Page 35)
How to 'jazzify' the Dorian scale (if you're into Jazz or Fusion) without any of the complex 'mental calculations' that Jazz players usually do. (Page 17)
The killer arpeggio that hits all the "sweet spots" of the Dorian scale (Page 32)
... and much more!
Isn't it time you stop wondering what all your guitar heroes are playing and learned to make THAT sound yourself?
Download this eGuide to the Dorian mode - with Video examples included - for only $7 and learn what it feels like to LOVE the sounds that come out of your guitar:
P.S. Most guitarists just learn the scale pattern and then struggle to 'make it sound'... but you don't have to be one of them anymore. Click here to get started
P.P.S. Guys, seriously... at $7 this is a no-brainer ;-)
This is what students are saying about this eGuide:
Abhi B: "Just so you know, I bought this course, and am rather enjoying going through it. It's very well-written, illustrative, and to-the-point. Very action, so to speak."
Patrick B: "I haven't had time yet to look at the 18 tips but worked on the guide of the Dorian mode that I bought from you. I am very satisfied with it and with the price ."
James D: "Just a quick message to comment on the quality of the 15-step Guide to the Dorian Mode e-book. It is the perfect complement to Master of the Modes! It is clear, applicable and highly effective."