Why PARALLEL 4THS Are Fine If Parallel 5ths Are Frowned Upon?
FREE Music Theory Map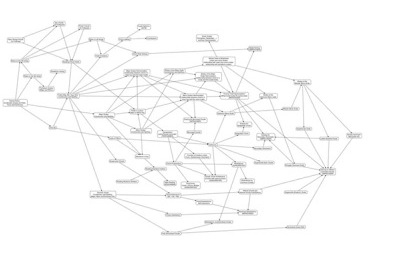 Download the FREE Map of Music Theory that will tell you what is the next topic you need to study
By submitting your info, you agree to send it to Guitar Mastery Solutions, Inc. who will process and use it according to their
privacy policy.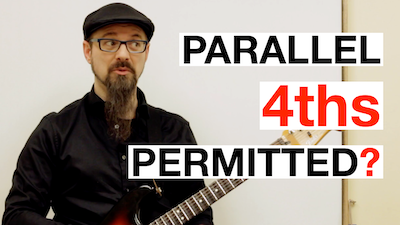 Nerd Alert / Trigger Warning: parallel 5ths (do not read if allergic to consecutive perfect intervals)
Parallel 5ths must be one of the most anxiety-inducing and cognitive-dissonance-producing ideas in music theory.
Whenever I mention them in a video, you can be sure that I will get comments like:
"Parallel 5ths are forbidden, and you should not use them, period. I don't see what the problem is"

"Parallel 5ths are permitted, and you should use them freely, period. I don't see what the problem is"

"Parallel 5ths are forbidden only in counterpoint."

"Parallel 5ths are not forbidden in counterpoint."
(All of the above are not true, in case you're wondering)
But I also get comments like:
"My harmony teacher insisted so much on avoiding parallel fifths and berated all my compositions that I stopped writing music."
(no, I'm not making this up. Stories like this break my heart. If you are in the same situation, write me, I want to help!)
… so it's a relief when someone asks me a "normal" question about parallel 5ths. And the question is:
'Why are parallel 5ths "forbidden" but parallel 4ths are not?'
(Since 4ths and 5ths are related, that's an excellent question!)
You find the answer here:
The free ebook in the video? You find it here: 18 Tips To Make Your Pentatonic Solos Sound Professional
In this video, we also answer:
What inspired you to switch from a career in theoretical physics to teaching music?
When I palm mute, the volume pot is in my way
This is one of the most important videos for a guitarist! Thank you!
You only know what you know, and the more you know, the more you know. Thanks, Maestro!
Dude, I want you as my goddam professor
Simply playing a major chord followed by the major chord a tritone away sounds so epic!
… but I know some of you still have one question:
"Can we use parallel 5ths or not?"
The answer is YES because they sound good (at least in modern music). Let me demonstrate it to you:
Do you want to know your fretboard so well that your hands automatically know where all the chords in all inversion and voicings are? Take the Complete Chord Mastery guitar course
Video Transcription
Hello, internet. So nice to see you. I have this free eBook for you. And now, let's start with your questions.
Nice video. I've always wondered, though, what inspired you to switch from a career in theoretical physics to teaching music?
Okay, here's a question for you who won the Nobel Prize last year? I'll wait. No?
Okay, that's a second question for you. How many people won two Nobel Prizes? And their names.
Did somebody ever win two Nobel Prizes? (Yes. Four people.) Do you know their names?
Okay, here's a third question for you. What's the name of the guitar player in Led Zeppelin?
And that's why I switched to music.
The question that has bothered me for some time, why are parallel fifths forbidden, for lack of a better word, but parallel fourths are not?
Fantastic question. There are two answers to that… actually three.
The first one is that, as you know, they're not really forbidden because people were using it and then anyway, but yeah, they are totally discouraged in classical Common practice period music.
Today, you can do whatever you want. There's no problem.
But the first reason is that is that parallel fifths sound different than parallel fourths, even if fifths and fourths are inversions of the same interval, meaning that if I play C and G is a fifth, but if I play G and C, it's a fourth. Still, the fourth tends to sound a little richer in sound.
So when you play parallel fourths, even in a classical piece, even in counterpoint, etc., it tends to sound better, fuller, with less problems. While the fifths tend to sound a bit empty.
Okay, you have to remember that all this music theory is made for instruments that sound a bit thin, okay, they usually don't have the super fat sound of a synthesizer today where you can add chorus and reverb and flanger on top of the reverb, or the super fat sound of a distorted guitar, those instruments are acoustic instruments and they get their fatness from the reverb of the room.
Okay. So, when you create music with them, music theory helps you make their sound fatter by combining the intervals in a way that makes them bigger, essentially. Okay? So that's the first reason that the fourth, even if they're the same notes, tend to sound a bit bigger.
The second reason is that this idea of forbidden parallel fifths is a reaction to the previous kind of music, so we forbid parallel fifths in Baroque music.
Music before that was using parallel fifths. Now I don't want to go in the exact detail of what kind of music because it's long, there is a lot of music to be discovered in there. But some music before there was using parallel fifths.
And indeed, they used it so often that Baroque musicians heard this kind of sound as old-fashioned music, and they wanted to compose new music for them, of course. And so, they avoided parallel fifths precisely not to sound like the previous generations of musicians.
Okay? Pretty much the same reason why today we do use parallel fifths. So we don't sound like Bach, Beethoven, Mozart, all these kinds of people because they avoided parallel fifths as much as they could.
And so we don't, so we sound different, okay. But there is nothing really objective about that. But there is something objective is if you use this (parallel fifths), it has a specific sound, it's a recognizable sound, and this sounds in a specific way, to them to the baroque musician, and classical musician, it sounded old fashioned; to us, since we forgot that, to us now it sounds modern.
So, but the parallel fourths sound different. And so there is not a big problem with them. And everybody always uses them.
The upper hold volume pot is too close to my strings, and I turn it while palm muting stuff; I try to adapt, there's no way for me; how do you handle the pot problem?
Well, there are two solutions to that.
And I did one of them on one of my Strats and the other on the other.
The solution on this one is that I took away the volume pot; okay, I'm using only one, and the volume pot goes on the on the on the first tone and the actual tone goes on the second tone place and I have no hole here.
So whenever I'm here, my hand is free; there is no volume to turn.
That's great if you want space; it's less great if you want to do the volume swell because this volume is a bit more sort of far away.
But the other thing you can do is you just learn to palm mute. And you change the position of your hands slightly either this way or this way so that you don't touch the volume.
It's just a matter of learning that technique exactly like you are learning to play a scale or chords. So now you need to pay attention to your right hand and palm mute in a specific way.
Most of the time, we work by instinct on the right hand, which does not mean we cannot learn a technique by breaking things down. As usual, seeing the movement, slowing down, and all these kinds of things, it's up to you.
If you'd like to have two tones on your guitar, then you can have this; if you don't care, just reach, and it's easier, essentially. If you like the sound of the strat, and if you like having two tones, then your technique needs to adapt to the instrument.
If, instead, you don't particularly like the sound of the Strat or you want, or you know, don't care too much about having two tones, then it's easier for you to change the instrument other than changing the technique. Up to you. Okay?
Both are legit ways
This is one of the most important videos for a guitarist, thank you.
Absolutely. My pleasure. And thank you!
Just reinforces the axiom; you only know what you know. And the more you know, the more you know; thanks, Maestro
That is true; the more you know, the more you know, less is not more, and more is more, okay.
And you don't even know what you don't know. Meaning you are not aware of all the things you don't know yet.
And that's normal and proper; it's not an insult, okay.
And that's why I'm telling everybody to learn music theory, because unless you've already started learning music theory, and you have an idea, and you learn music theory from somebody who actually knows the music theory.
Well, then you don't know what's inside music theory because we think music theory is just a bunch of things about chords or maybe scales.
But music theory goes well beyond these.
And that's the thing, actually, is that music theory wasn't even called Music Theory until the 19th century before it was just called "music."
This is what we taught to musicians to make music, okay, so you know, only what you know. And the more you know, the more you know.
Dude, I want you as my goddamn professor.
Well, thank you, that is… sadly, there is no amount of money or offering that will ever take me back to Academia. Okay.
But thank you, if you want to learn from me, and this is the internet, I'm going to do that. If you want to learn from me, I have courses, and you can see them on the top right.
And so, I can be your professor in this sense.
But I'm very much enjoying this life outside the Academia, so I'm not going to go back there.
But thank you very much for thinking of me!
Simply playing a major chord followed by a major chord a tritone away sounds so epic
Yes, yes, it does. And it works this way. We can play an A major chord here.
And the one a tritone away is an E flat or D, sharp major. And you've heard the sound. This sound started in the movie industry, as far as I can tell, in the early 70s in science fiction movies.
It was like the sound of an alien thing. And they were using the major chords wherever it was wonder and discovering… and whenever you're getting to the dangerous part when the alien creature is going to attack you, they're using minor chords.
Okay, subtle change to indicate the difference in mode.
These ideas are not even new; these ideas were already used in late Romantic music like most of movie film soundtracks, essentially, but yeah, it's just epic.
It sounds better than you would expect because they will tell you that the tritone is dissonant and that you have to stay in key…
But those chords sound just great together. Okay. So, yes, and thank you for giving this suggestion.
Did you find this video helpful? Do not miss the next Music Theory videos!
Subscribe to the MusicTheoryForGuitar YouTube channel by clicking the button below.